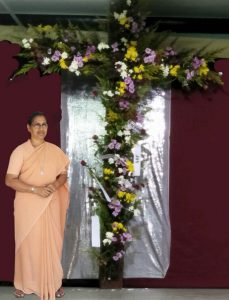 Warm greetings from Holy Cross Matric Hr. Sec. School.
I came that you may have life and life in abundance [JESUS].
48 years ago the sisters of the cross set their foot in this soil to work with God, to bring abundant life to the people of God (Vellore).
When I look back at the life and mission of our Holy Cross Matric. Hr. Sec. School Vellore, I am humbled by the way, God's abundant grace has established, sustained and led us with significant success, growth and development.
"Ignorance is the cause of evil in the society" Awareness and realization of this fact, triggered the spirit of commitment, to enlighten the young, in a simple, God fearing woman – Claudine Echernier. It is through her, the mission of educating the young people, who were less fortunate began by the "Sisters of the Cross of Chavanod" in France in 1832, and from there to Amaravati, Maharastra in India. Slowly our sisters extended their contribution in the field of education to south India as well. Thus Vellore was fortunate to receive a group of 3 enthusiastic Sisters in Sathuvachari in the year 1974, who were welcomed and blessed by Most. Rev. Anthony Muthu, D.D. then Bishop of Vellore. In the same year 14 pupils were enrolled in the kindergarten.
The unflinching committed service of our Sisters later included the service of Lay staff members as the student population increased. Today this institution serves 2820 students from K.G to Std XII with 99 Teaching and 25 supportive staff.
With Gratitude to God the almighty, admiration and appreciation to the very many sisters who toiled selflessly in this soil, particularly the pioneers, I offer my dreams and prayers to God, that every child who enters the portals of Holy cross matriculation be blessed, and grow with wisdom and knowledge and become responsible citizen of our country.
Sr.JESUSAVARI